Horizon Europe
Horizon Europe is the central European framework program for research and innovation for 2021-2027 with a budget of around 95.5 billion euros.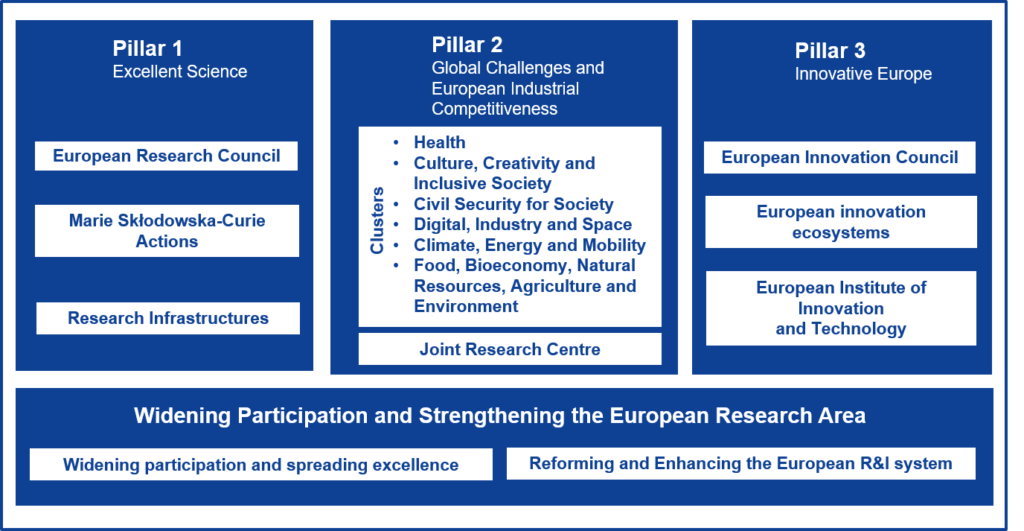 The program is structured in three pillars:
Excellent science: Pillar 1 supports international fellowships and training networks with the Marie Skłodowska-Curie Actions (MSCA) and excellent minds with breakthrough ideas in the European Research Council (ERC) as well as transnational infrastructure measures.
Global challenges and European industrial competitiveness: Pillar 2 primarily offers calls for transnational collaborative research projects in six thematic clusters covering a broad range of topics.
Innovative Europe: Pillar 3 focuses on the economic application of research results and aims to make Europe a pioneer in market-creating innovations via the European Innovation Council (EIC).
Complementary to this, the funding area "Increasing Participation and Strengthening the European Research Area" offers the opportunity to establish partnerships with emerging institutions and individuals from less research-strong EU member states – the so-called widening countries – in order to close the research and innovation gap in the EU and to further expand the common European Research Area.
Find further information on the pages of your EU-ReasoN contact persons or at:
Horizon europe on twitter